Hello, Friends & Family!
I wanted to have a place to share with you some of the day-to-day happenings and ideas in my little Peridot Daisy workshop—events, new gemstones, new designs, etc…! And what better way than a blog :)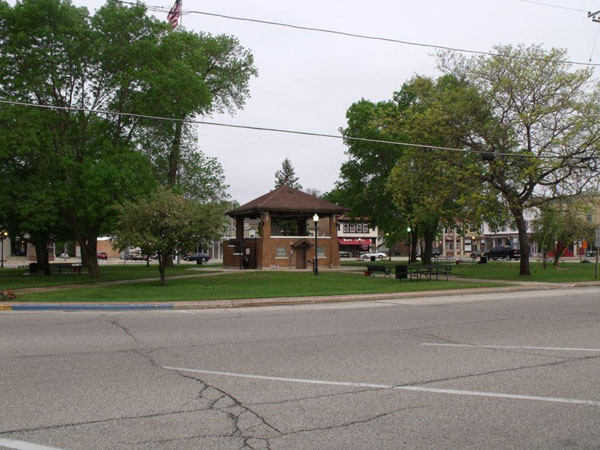 Our lovely historic town square in East Troy, Wisconsin.There's lot of great things happening with my jewelry biz in 2012! For one, I'm considering signing up to have a tent in this year's East Troy Marketplace, held every Thursday from 4-7pm on our town's Square from mid-June through September. The Marketplace is an awesome way to meet local artisans and farmers (and the East Troy area has a lot of them!) and hook yourself up with some of the best produce, housewares, gifts and goodies. I'll keep you updated on this exciting possibility :)
Second, soon I will be setting up a display at a popular local coffee shop—the Red Door Café. Owned by Jane Thompson and combined with her interior design business, JT Interiors, it's a great place to hang out with friends, have some excellent Alterra coffee or soup of the day, and of course, buy yourself some beautiful, locally made wares! Updates will be made to my website once I get things to Red Door, hopefully within the next week.
Lastly, for Christmas, "Santa" (aka Hubby!) got me a micro-torch! What does this mean?? No, I won't be selling crème brûlées…haha…but I am planning to learn several soldering techniques! This means sturdier jewelry, for one. It also opens up a whole new world of possibilities for designs! Stay tuned for these new creations in the near future.
Even though it's (finally!?) snowing here in Wisconsin, I'm dreaming of Spring in just a few short weeks! Thanks for stopping by :)
Josey Slight
Designer/Owner