Vesuvianite & Jasper Dowsing Pendulum in Copper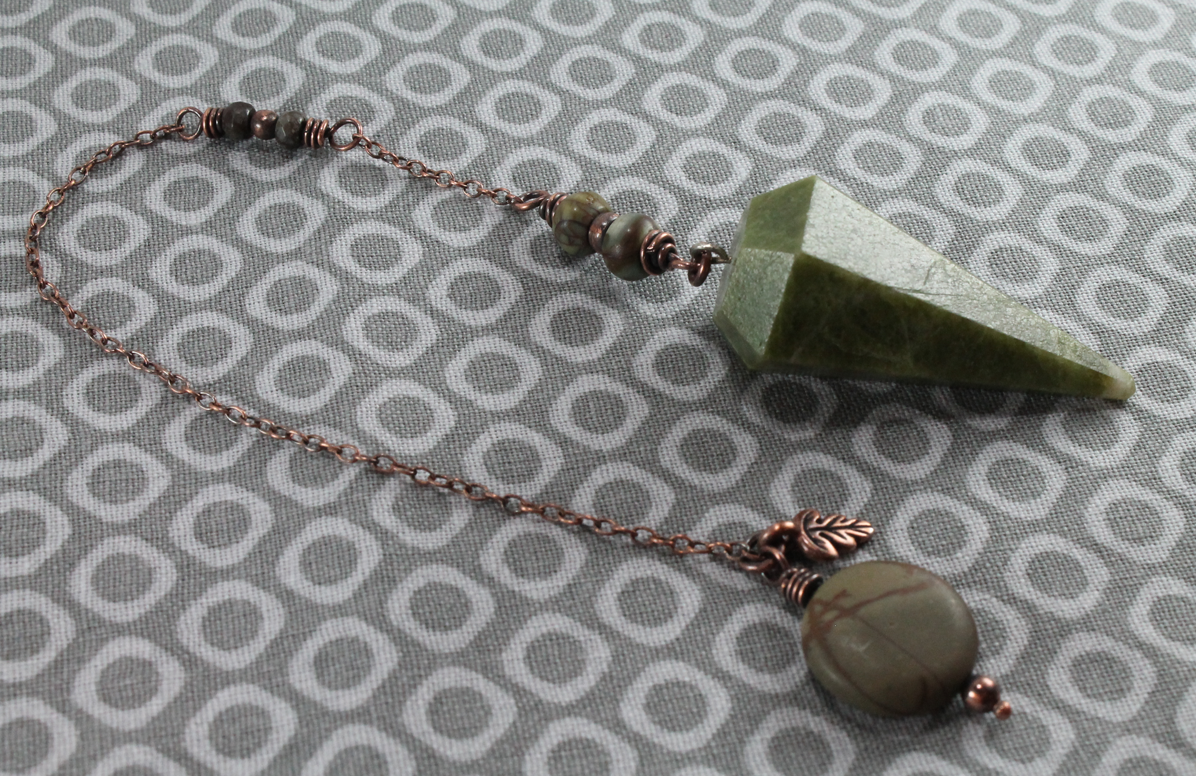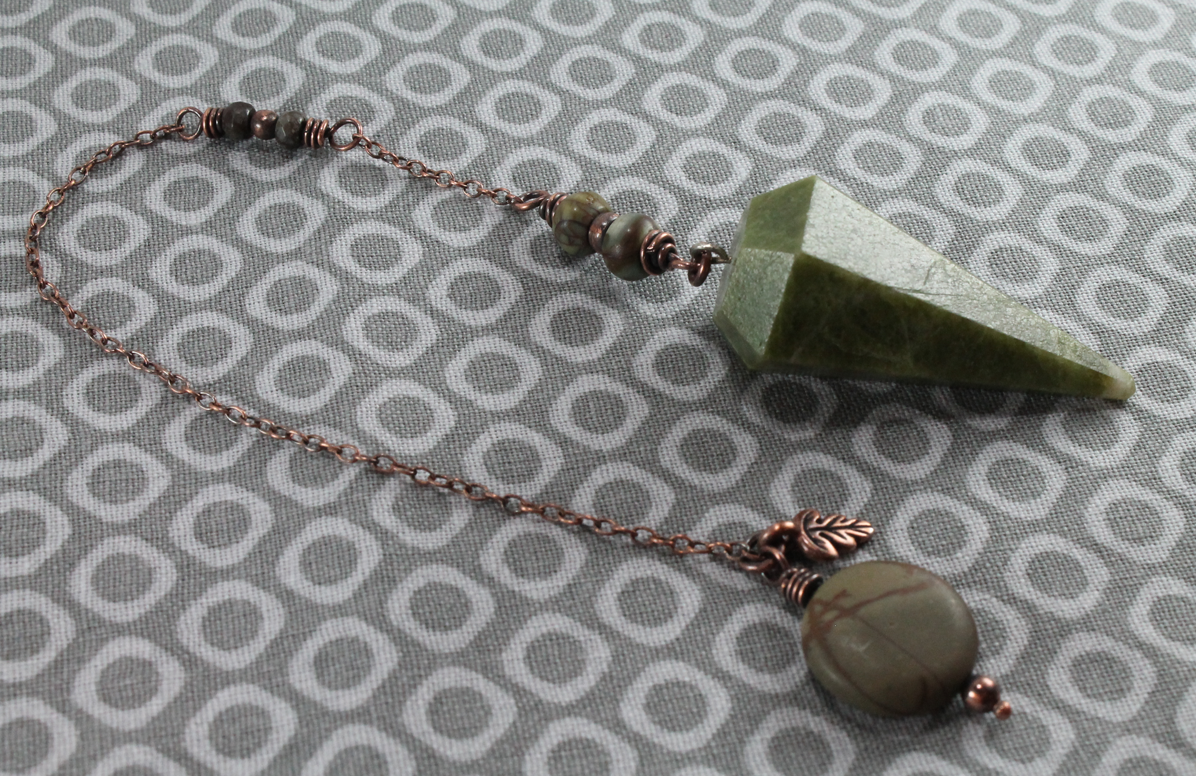 Vesuvianite & Jasper Dowsing Pendulum in Copper
One-of-a-kind: ONLY ONE AVAILABLE. Ready to ship!
New to using a pendulum or just curious as to what dowsing is? Nigel and Maggie Percy of discoveringdowsing.com have excellent information to get you started and more.
This is a 6-sided green Vesuvianite dowsing pendulum that has been cleansed, charged and is ready for you to program for energy work or personal use!
The key energetic words/phrases I would choose for this pendulum based on the gemstones I chose are: zest for life, letting go of limiting beliefs, connecting body (Earth) and spirit (Divine), manifesting through creativity.
The Vesuvianite pendulum point is just over 1.5" long and a tad over 3/4" at its widest. The grip is a lovely Picasso Jasper coin that is slightly more than 1/2" in width (just right for holding onto!), next to a cute little copper Oak leaf charm. There are two more Picasso Jasper rondelles near the Vesuvianite as well as two tiny faceted Brown Leaf Jaspers!
The crystals are connected by high-quality solid Copper wire and cable chain that has been lovingly antiqued and hand polished.
From end to end, this treasured divining tool measures 9".
All of my pendulums come in a small muslin drawstring bag for storage or carrying in your pocket!
METAL ATTRIBUTES:
As jewelry, Copper is esteemed for its conductive properties which are believed to help reduce inflammation and increase circulation where worn. Copper is also believed to help alleviate lethargy and promote a boost in energy.
Resources:
The Crystal Bible by Judy Hall
The Encyclopedia of Crystals by Judy Hall
The Book of Stones by Robert Simmons & Naisha Ashian
GEMSTONE ATTRIBUTES:
Green Vesuvianite (also known as Idocrase) was discovered on Mount Vesuvius in Italy and has been found in Quebec, Canada as well as Vermont and Maine, USA. (You may also find it in pink or purple.) Simply put, Vesuvianite assists in helping you let go of limiting beliefs, ego, and negative patterns or attachments so you can move forward in your life. Green Vesuvianite is a stone of the heart and solar plexus chakras, so it will help you manifest and integrate your new zest for life with your true spiritual path—creating a vibrational pattern of wholeness. It will support you with courage as you navigate the newness of change, and inspire you as you boldly create your heart's desires in this life!
Picasso Jasper's main message is to celebrate life! It gently reminds us that it's never to late to "live a little." It also aids in transformations in the area of relationships; it helps to attract like-minded people into your life as well as rekindle old friendships. Picasso Jasper is a wonderful meditative stone for creativity--if you have "artist's block", this gemstone is just what you need for transforming your creative juices. All Jaspers are very grounding and very connected to feminine Earth energies—both of which makes them worthy of being called the "supreme nurturer", giving loving support and courage in times of stress.
The information presented to you on peridotdaisy.com is not intended to replace professional medical advice. Gemstones and metals are outstanding additions to your health care regimen and daily life, and can energetically provide balance, protection and encouragement, all which promote healing and happiness at a deep level. We encourage you to include many modes of care for your health--including traditional medicine, alternative medicine and energy medicine--and advise you to always seek professional guidance.