Rose Quartz Heart of Healing Dowsing Pendulum in Sterling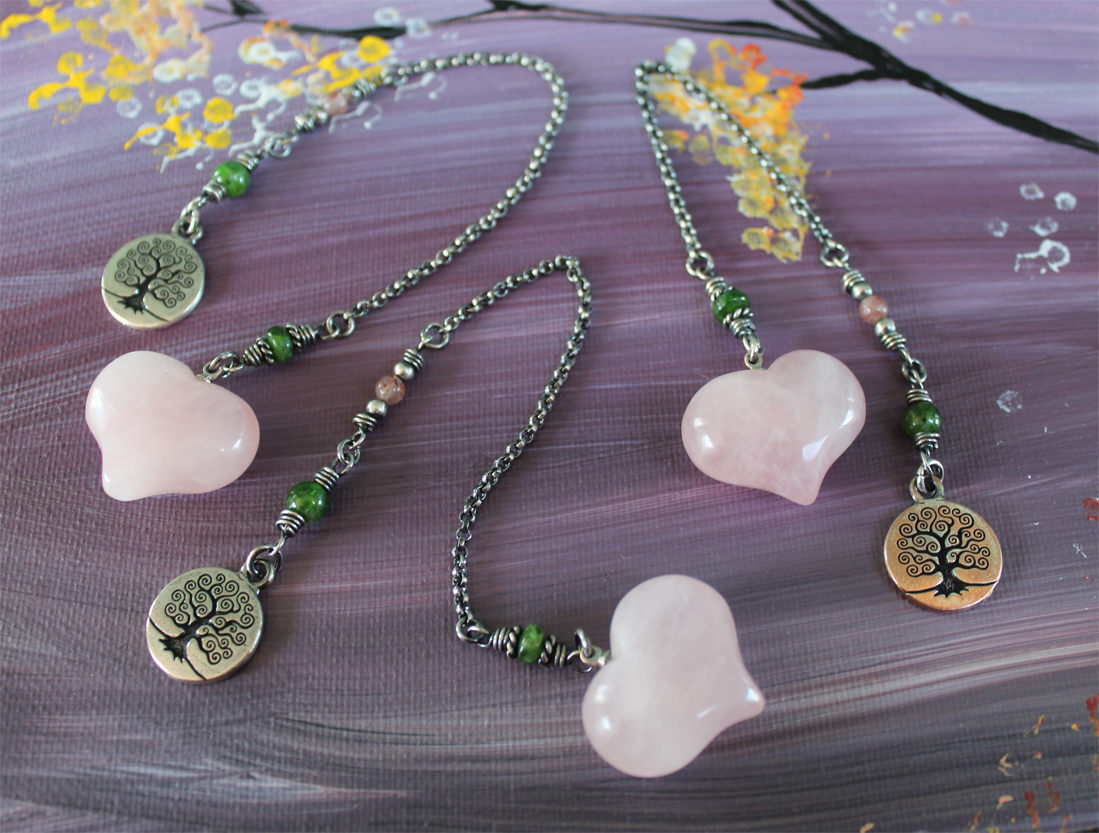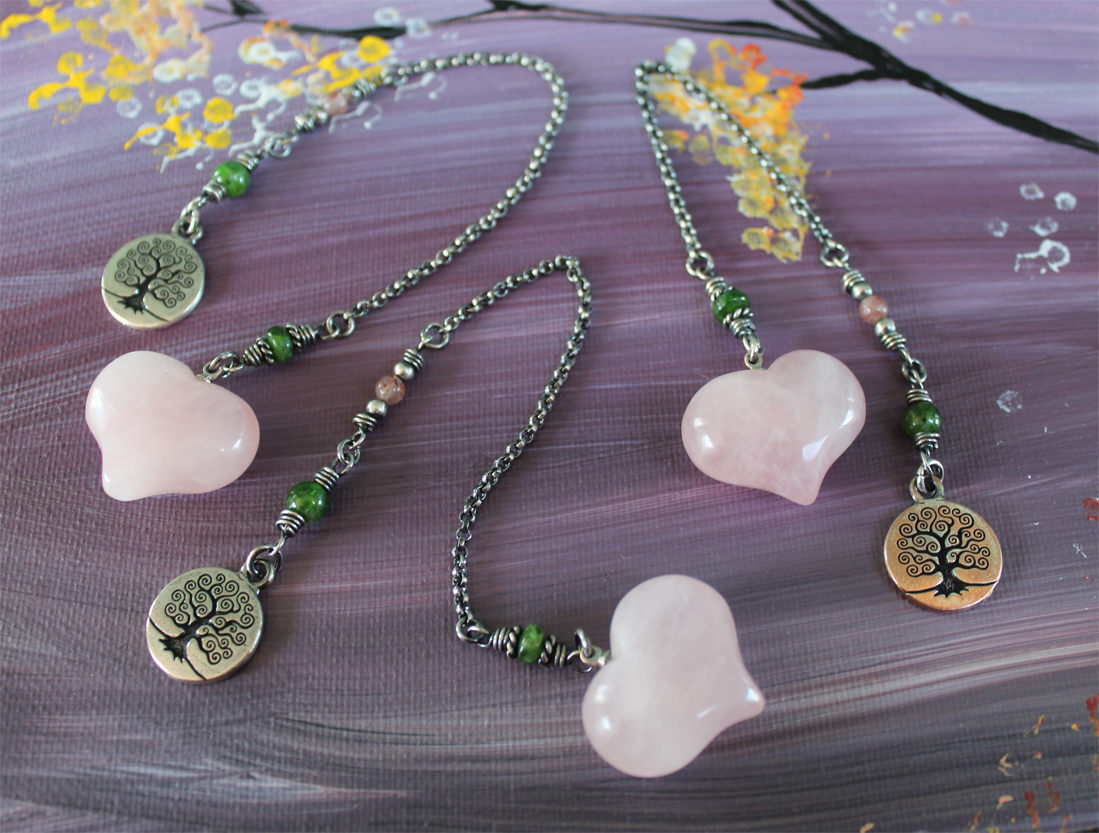 Rose Quartz Heart of Healing Dowsing Pendulum in Sterling
Limited Edition--THREE available. Ready to ship! This listing is for ONE dowsing pendulum.
New to using a pendulum or just curious as to what dowsing is? Nigel and Maggie Percy of discoveringdowsing.com have excellent information to get you started and more.
This Rose Quartz pendulum point will pull at your heart strings. It's hard to resist Rose Quartz that's been formed into a heart shape--so lovely and absolutely full of Divine energy. Perfectly complimenting the Rose Quartz are two Chrome (green) Diopsides and one tiny Lepidocrocite, both of which also resonate with the heart chakra and have a vibrational focus on healing energies.
This dowsing pendulum was created with an emphasis on the heart center and healing. While this pendulum will work beautifully for any of your tasks, it is especially attuned to detecting imbalances as you do energy work on yourself, patients, or furry loved ones!
The Rose Quartz heart point is 1" wide, just over 3/4" high and a generous 1/2" thick.
The crystals are connected by high-quality solid Sterling Silver wire and cable chain that has been lovingly antiqued and hand polished. The lovely Tree of Life charm grip is Silver-plated lead-free pewter and made in the USA by TierraCast.
From end to end, this treasured divining tool measures 7.5".
All of my pendulums come in a small muslin drawstring bag for storage or carrying in your pocket!
Backdrop artwork by Annie's Creations.
METAL ATTRIBUTES:
Silver enhances patience and perseverance to those who wear it. Silver has long been associated with lunar cycles and feminine powers of the moon. It's the preferred metal to use with gemstones because it magnifies their attributes as well.
Resources:
The Crystal Bible by Judy Hall
The Encyclopedia of Crystals by Judy Hall
The Book of Stones by Robert Simmons & Naisha Ashian
GEMSTONE ATTRIBUTES:
Rose Quartz is a well-known and loved gemstone for the heart. It is gentle, subtle, loving and a balm to emotional wounds. It vibrates with pure Divine love and imparts a reawakening of that love to whomever uses it for that intent. Rose Quartz draws loving relationships toward you and helps repair trust in existing ones. Its soothing energies opens your heart chakra, allowing its loving vibrations to positively affect you on a cellular level. Don't let Rose Quartz's baby pink color fool you--it is one of the most important stones of our time. It represents the rebirth of faith in a benevolent universe. It is the perfect stone to gift to others--even strangers--spreading compassion, gentleness and love throughout our world.
Chrome Diopside is a vibrant green crystal that strives for balance in all chakras, yet unabashedly opens your heart and root chakras, connecting you firmly with the heartbeat of Terra. It sends its magnificent Green Ray of healing throughout all body systems, gently removing energetic blockages to facilitate healing, especially when physical regeneration is needed. Chrome Diopside supports emotional well-being in the same way a walk in the woods might provide, helping us put our problems into perspective and gifting us respite and renewal. Through the heart chakra, it improves your ability to love yourself as well as receiving love from others. Chrome Diopside embodies everything green—healing and vitality, our planet Earth, and our heart center.
Lepidocrocite is a stone of the heart, and one of its greatest strengths is in emotional healing. It benefits the emotional body by harmonizing with one's heart center, tapping into Divine Love, which then assists in processing grief, depression, and healing old wounds. It is very effective at helping you access even subconscious memories of your deepest hurts, and then supporting you as you release and transmute them with gratitude. It also aids in self-love, self-acceptance and helps you approach others through your heart center. Lepidocrocite also facilitates all types of communication, helping you convey whatever message you need as a speaker, teacher, performance artist or musician. Physically, Lepidocrocite supports the heart, lungs, endocrine system, and aids in hormonal balance.
The information presented to you on peridotdaisy.com is not intended to replace professional medical advice. Gemstones and metals are outstanding additions to your health care regimen and daily life, and can energetically provide balance, protection and encouragement, all which promote healing and happiness at a deep level. We encourage you to include many modes of care for your health--including traditional medicine, alternative medicine and energy medicine--and advise you to always seek professional guidance.