Orange Elestial Quartz & Tiger Iron Dowsing Pendulum in Sterling Silver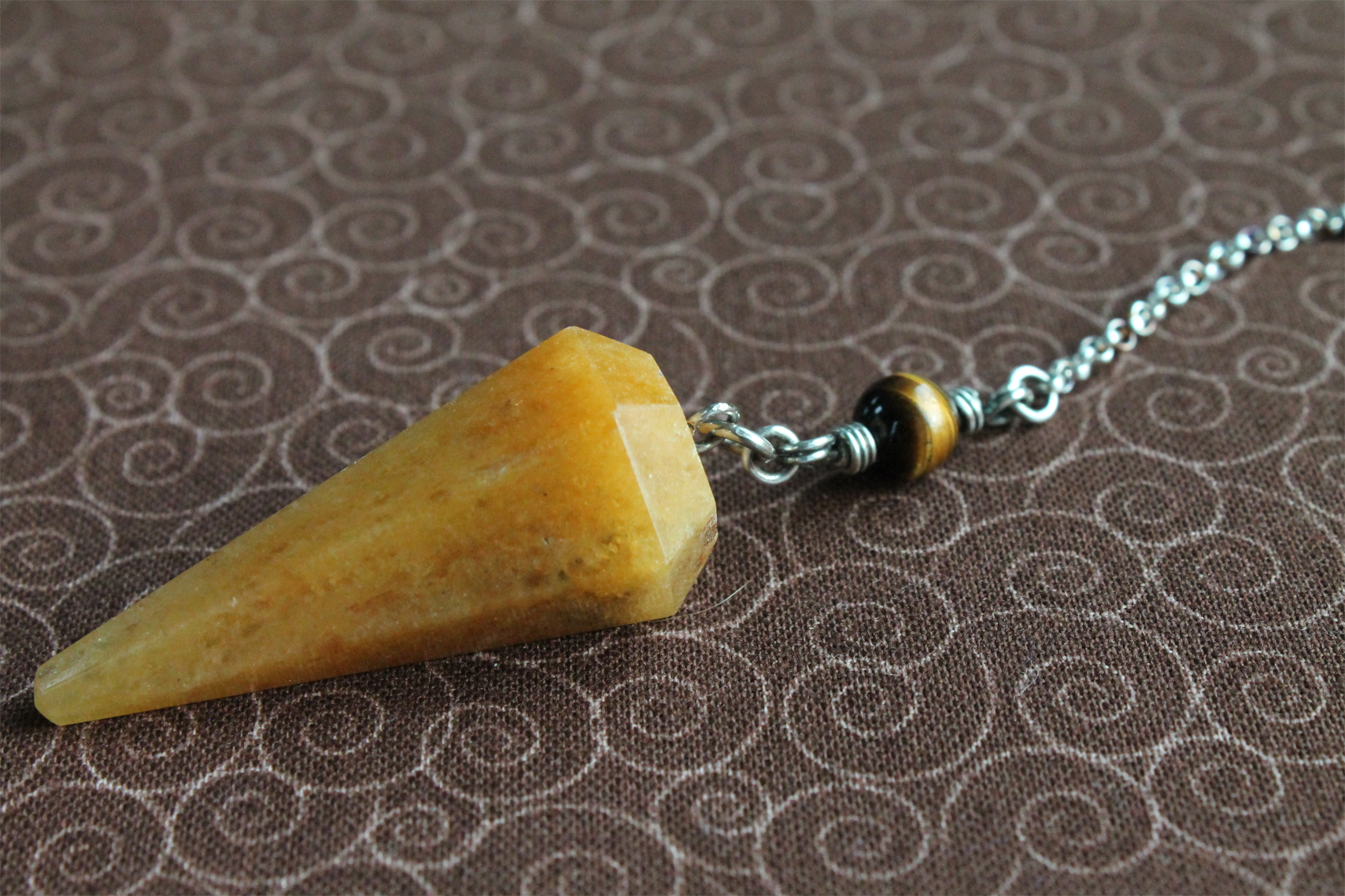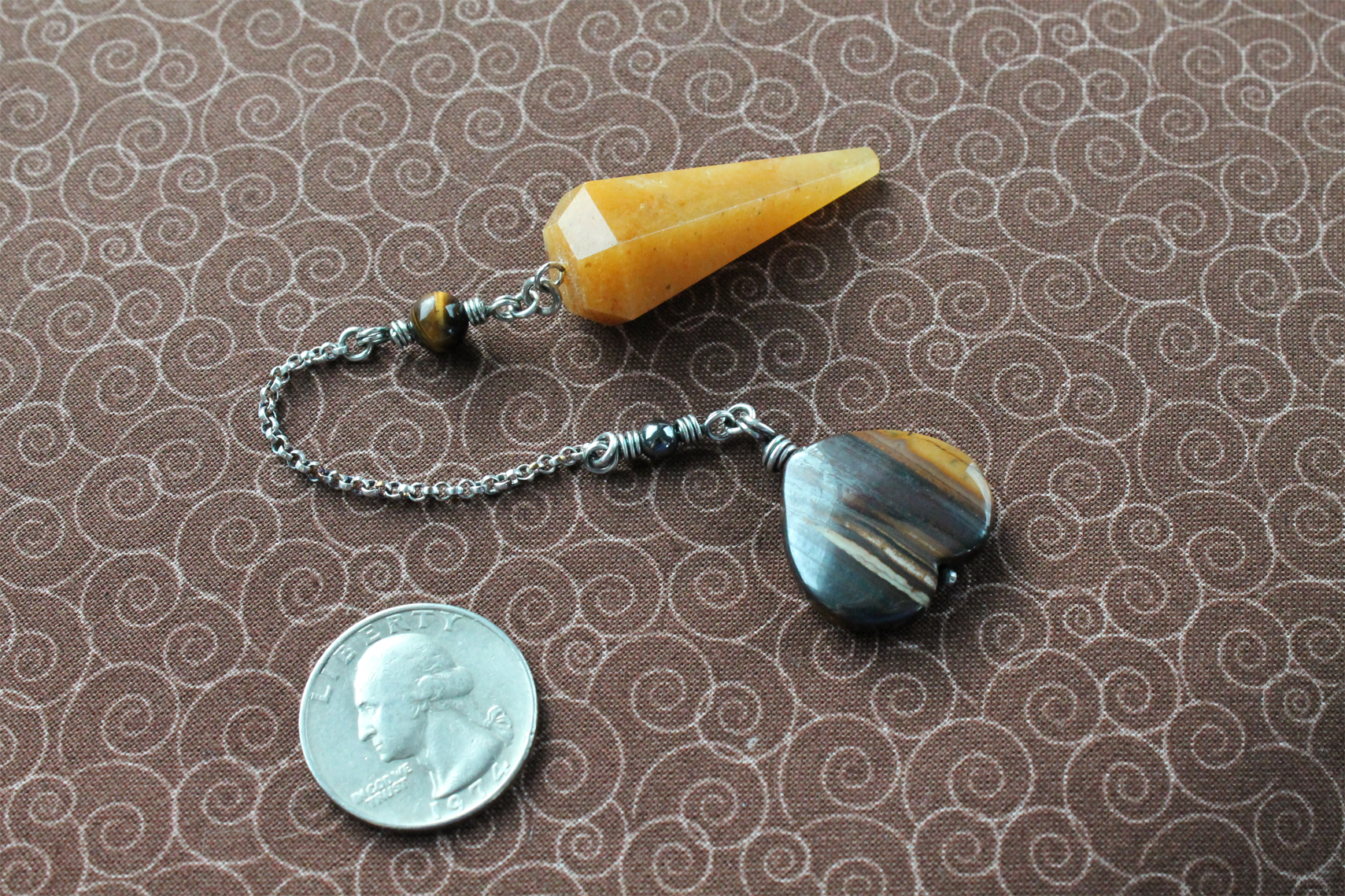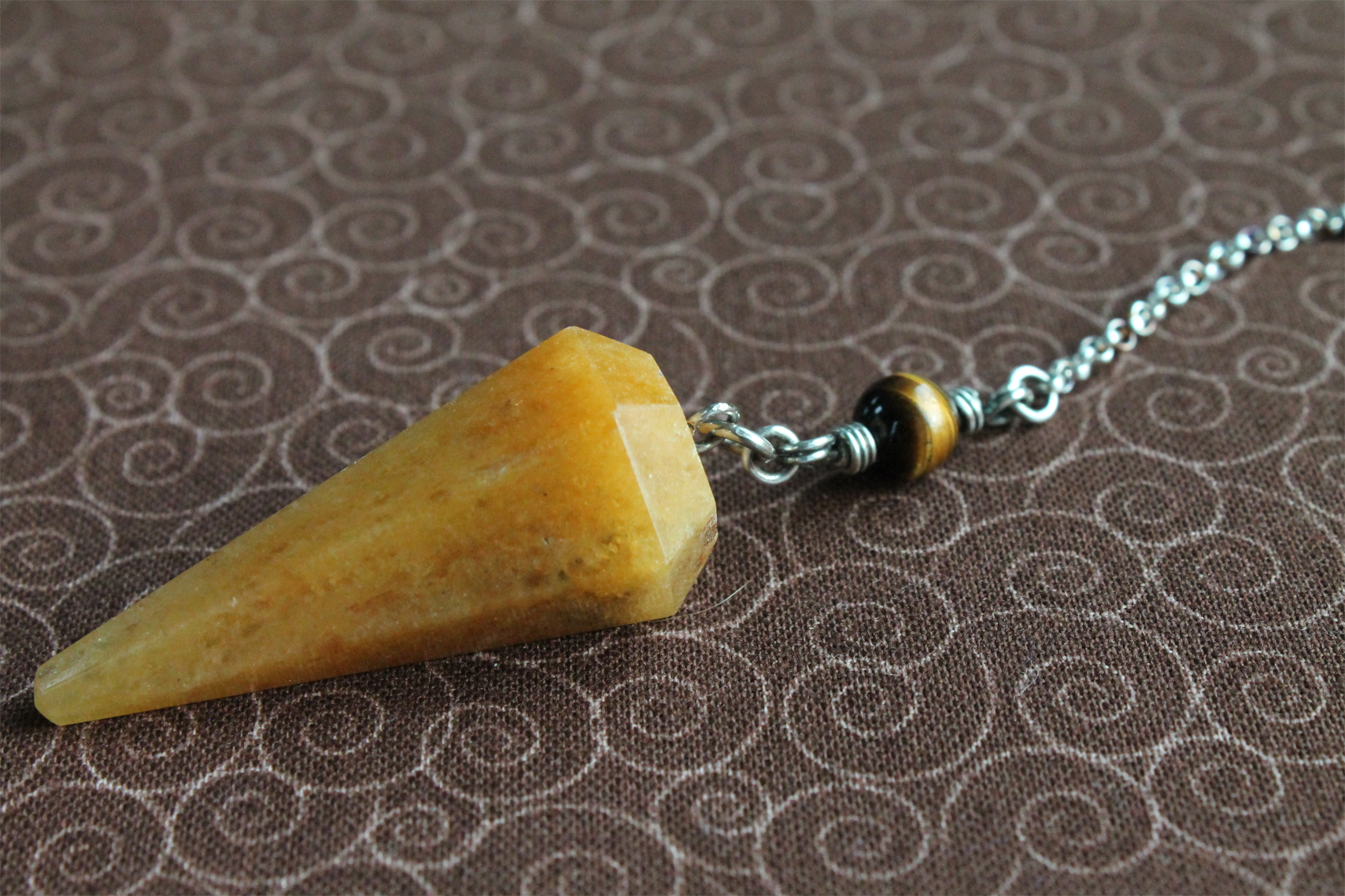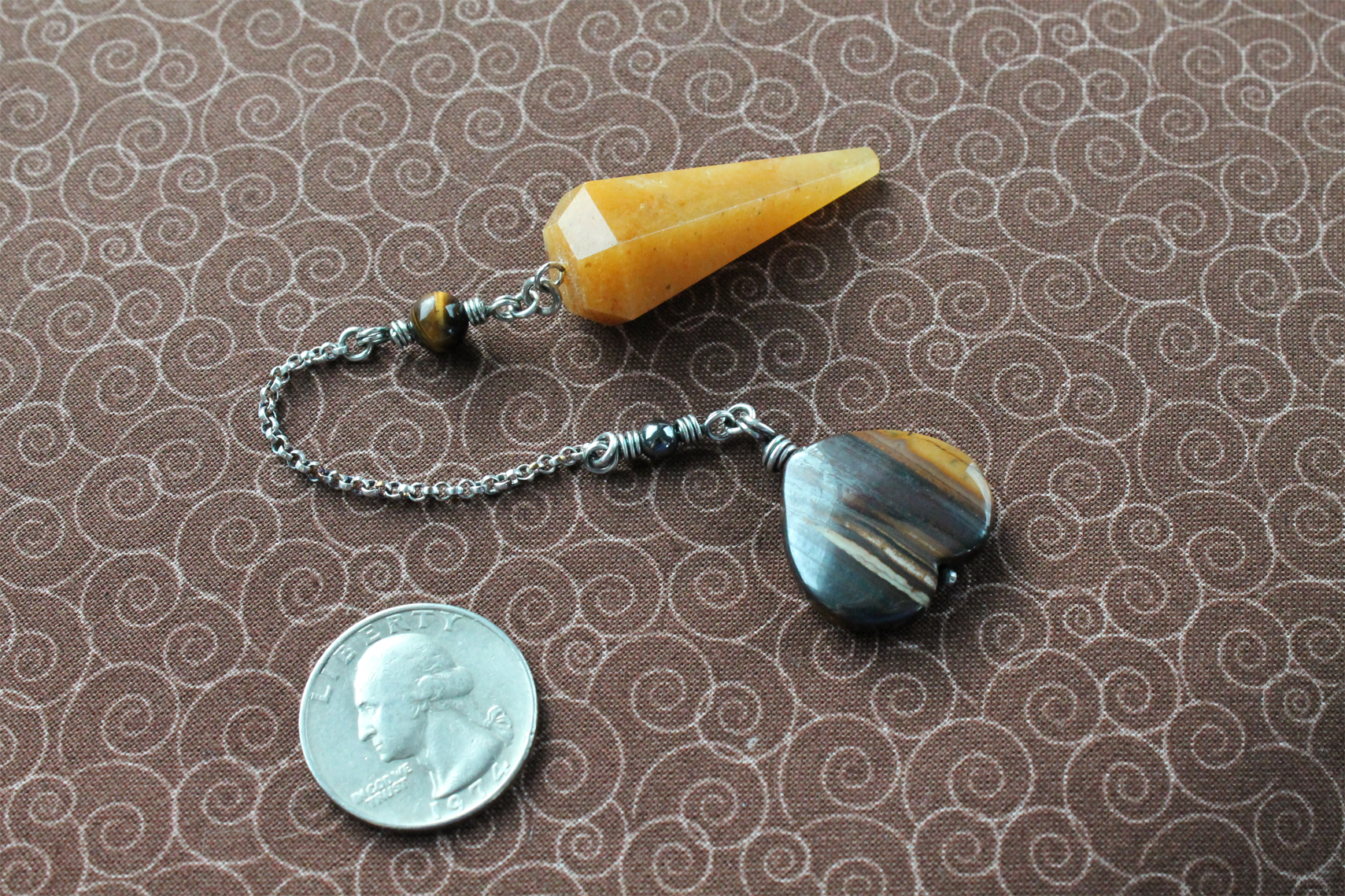 Orange Elestial Quartz & Tiger Iron Dowsing Pendulum in Sterling Silver
One-of-a-kind: ONLY ONE AVAILABLE. Ready to ship!
New to using a pendulum or just curious as to what dowsing is? Nigel and Maggie Percy of discoveringdowsing.com have excellent information to get you started and more.
This is a 6-sided Dark Orange Elestial Quartz dowsing pendulum that has been cleansed, charged and is ready for you to program for energy work or personal use!
I am LOVING this pendulum...and almost kept it for myself! :) It's petite in length which is very conducive to quicker movement for your answers. Its energies are nice and balanced--a perfect blend of strength and grounding, yet a quick connection to the higher self.
The Dark Orange Elestial Quartz point is just over 1.5" long and 5/8" at its widest. The heart grip is a 7/8" Tiger Iron, followed by a 4mm Hematite. Near the pendulum point is a beautiful, glowing 6mm Tiger's Eye.
The high quality, durable Sterling Silver rolo chain has been lovingly antiqued and hand polished. All wire used is also Sterling Silver.
From end to end, this treasured divining tool measures a petite 6.75".
All of my pendulums come in a small muslin drawstring bag for storage or carrying in your pocket!
GEMSTONE ATTRIBUTES:
Elestial Quartz is a quartz crystal that naturally grows terminations all over the faces of the stone. This formation, along with other unique properites, makes Elestial Quartz quite powerful and as stated in The Book of Stones, "It is like having a radio in the room, tuned into the 'Higher Self Channel'." Elestial Quartz is very efficient at receiving downloads of cosmic energies and transferring it to those who are near it. It will effect cellular encoding on the deepest levels, transforming one physically as well as spiritually to the next appropriate level with minimal discomfort, assisting in personal evolution and ascension. Elestial Quartz also aids in grounding your Higher Self in your Earthly form, as well as helping you release emotional patterns that are detrimental to your growth. This crystal is most certainly a stone of our time, as we awaken and tune into the higher vibrational dimensions.
Tiger Iron is a combination of Tiger's Eye, Red Jasper, and Hematite and therefore holds the properties of these stones. It is extremely grounding first and foremost. If you are feeling particularly disengaged from the physical plane, reach for Tiger Iron to reconnect and center you! It is not shy, yet it will not dull your consciousness as it does its job. Tiger Iron will also impart vitality, giving you strength and stamina to finish any project that requires a lot of physical or mental energy. It boosts your confidence, creative juices, and focus. If you are in need of physical healing, Tiger Iron helps strengthen the blood (through its iron content) and is excellent for anemia or low blood oxygen.
Tiger's Eye is a stone of Fire and Earth, sun and soil, spirit and body. This duality teaches us balance in our everyday lives. Tiger's Eye is a firm teacher of finding the harmonious middle ground when presented with extreme situations or polarities in our own emotional lives. To take that even further, it will show you that all those polarities are simply expressions of Source. Learning this, you will begin to make choices not based on quick judgment, but by discernment cultivated by your highest self. Tiger's Eye could be considered the warrior's stone--it protects, brings luck, enhances courage, passion, and physical strength. Its resonance with the first three Chakras makes it a perfect balance of grounding, practicality and action.
Hematite is an excellent gemstone to wear when you feel frazzled! Its strong protective and grounding properties will restore harmony and get your feet back on the ground when your head is "in the clouds." It also is very effective and bringing together the yin (female) and yang (male) energies for balance in many areas of your life.
METAL ATTRIBUTES:
Silver enhances patience and perseverance to those who wear it. Silver has long been associated with lunar cycles and feminine powers of the moon. It's the preferred metal to use with gemstones because it magnifies their attributes as well.
Resources:
The Crystal Bible by Judy Hall
The Encyclopedia of Crystals by Judy Hall
The Book of Stones by Robert Simmons & Naisha Ashian
The information presented to you on peridotdaisy.com is not intended to replace professional medical advice. Gemstones and metals are outstanding additions to your health care regimen and daily life, and can energetically provide balance, protection and encouragement, all which promote healing and happiness at a deep level. We encourage you to include many modes of care for your health--including traditional medicine, alternative medicine and energy medicine--and advise you to always seek professional guidance.