Clear Quartz Arrowhead Pendulum with Sleeping Beauty Turquoise in Sterling Silver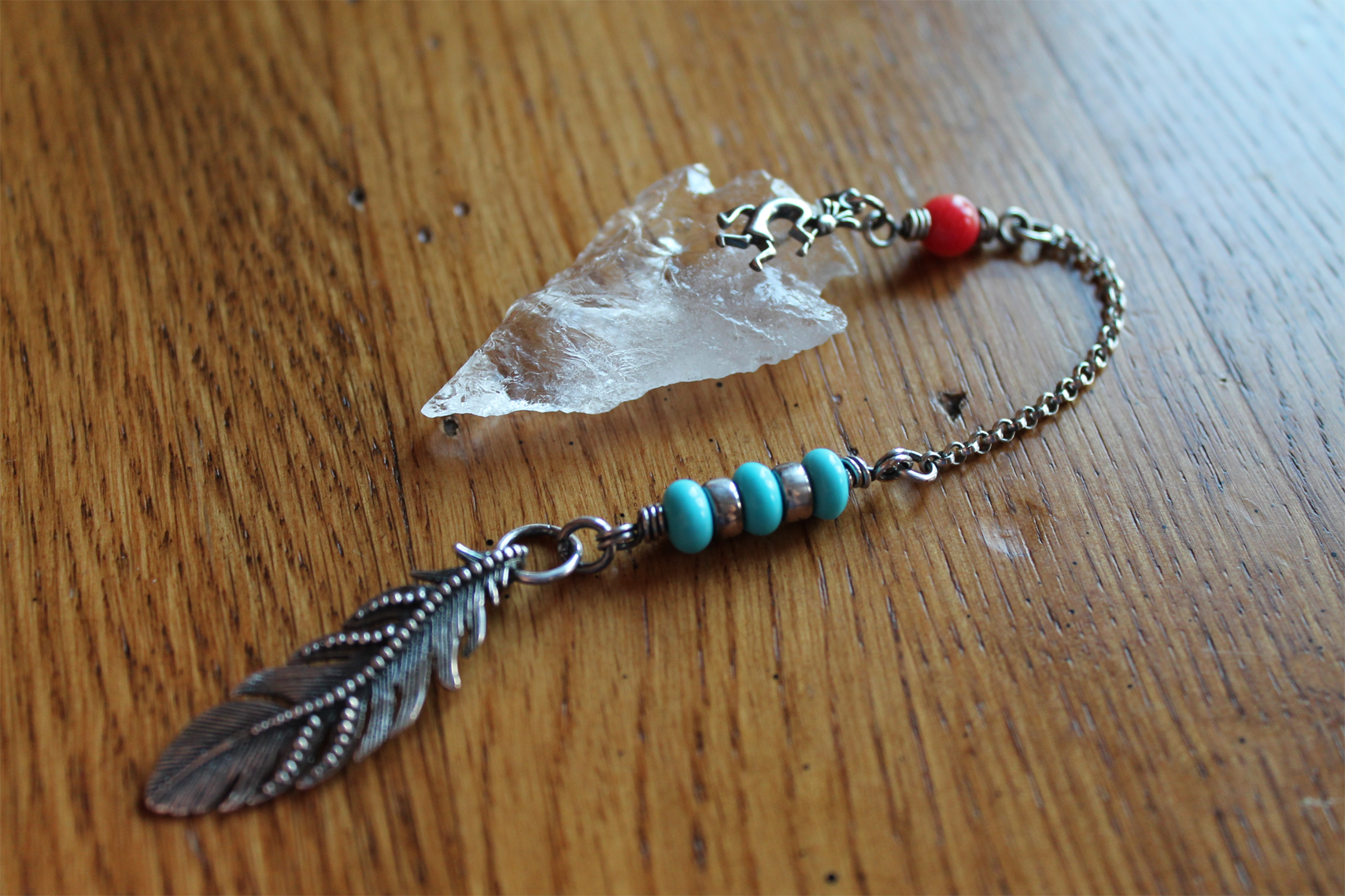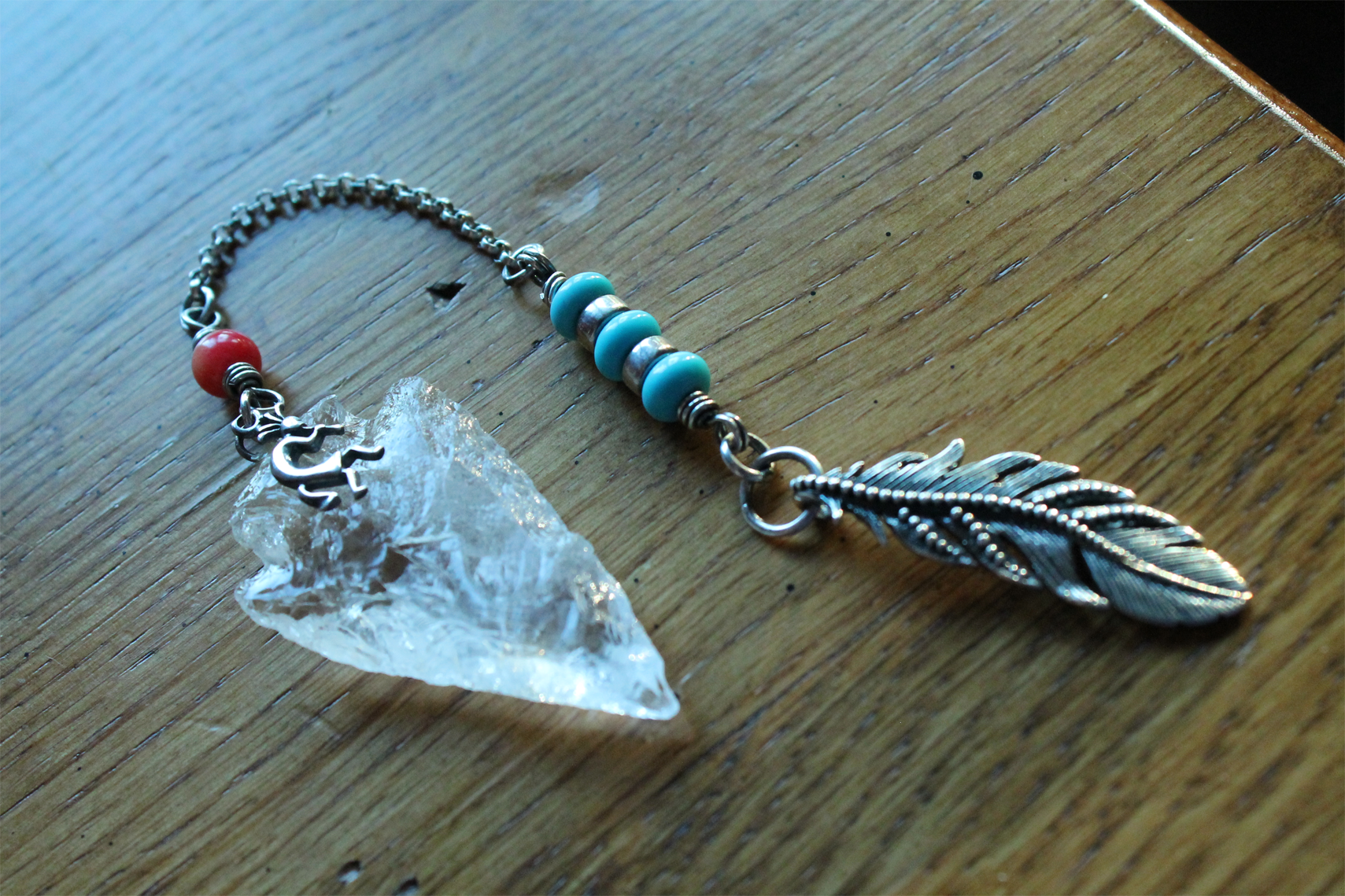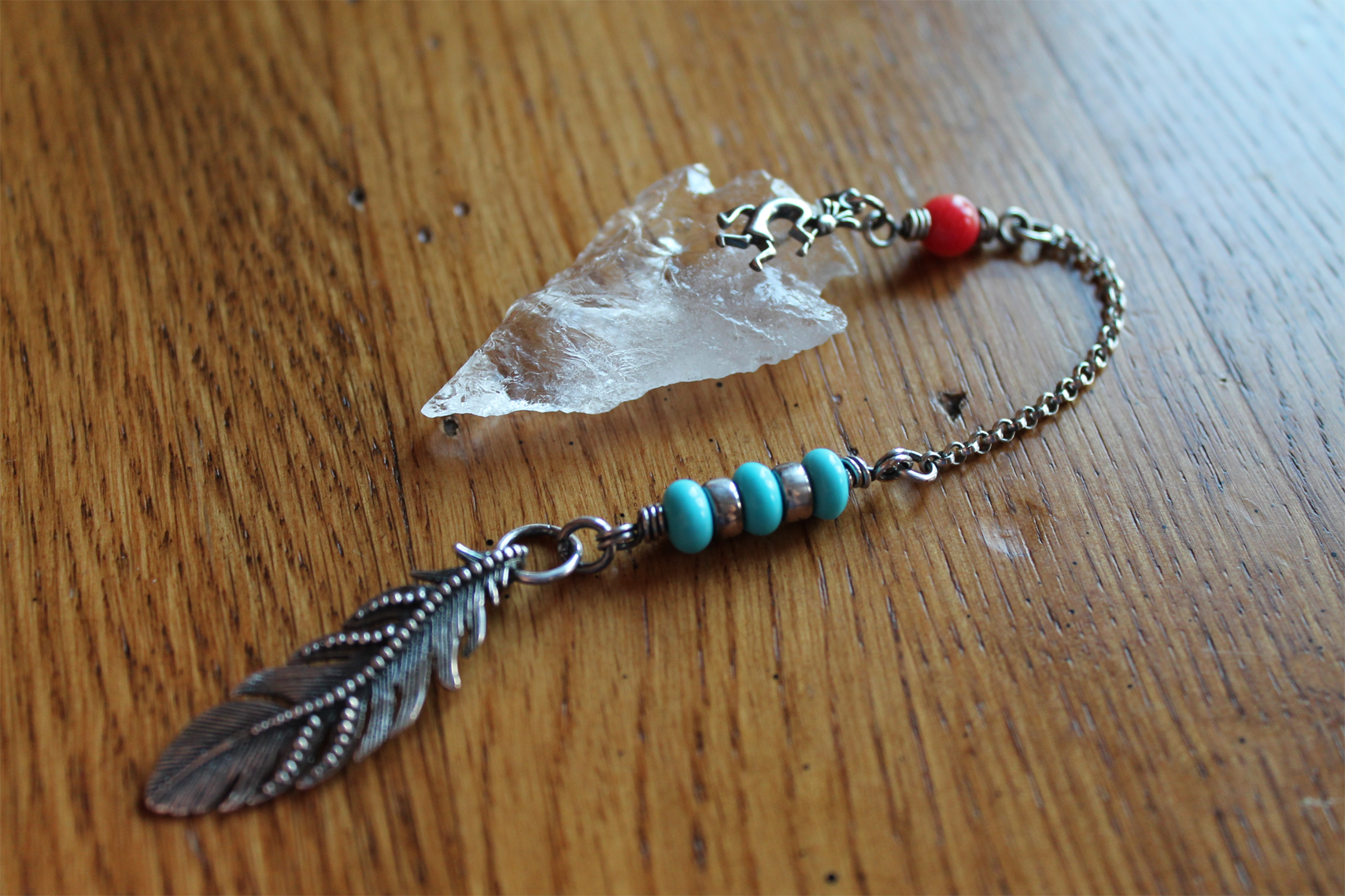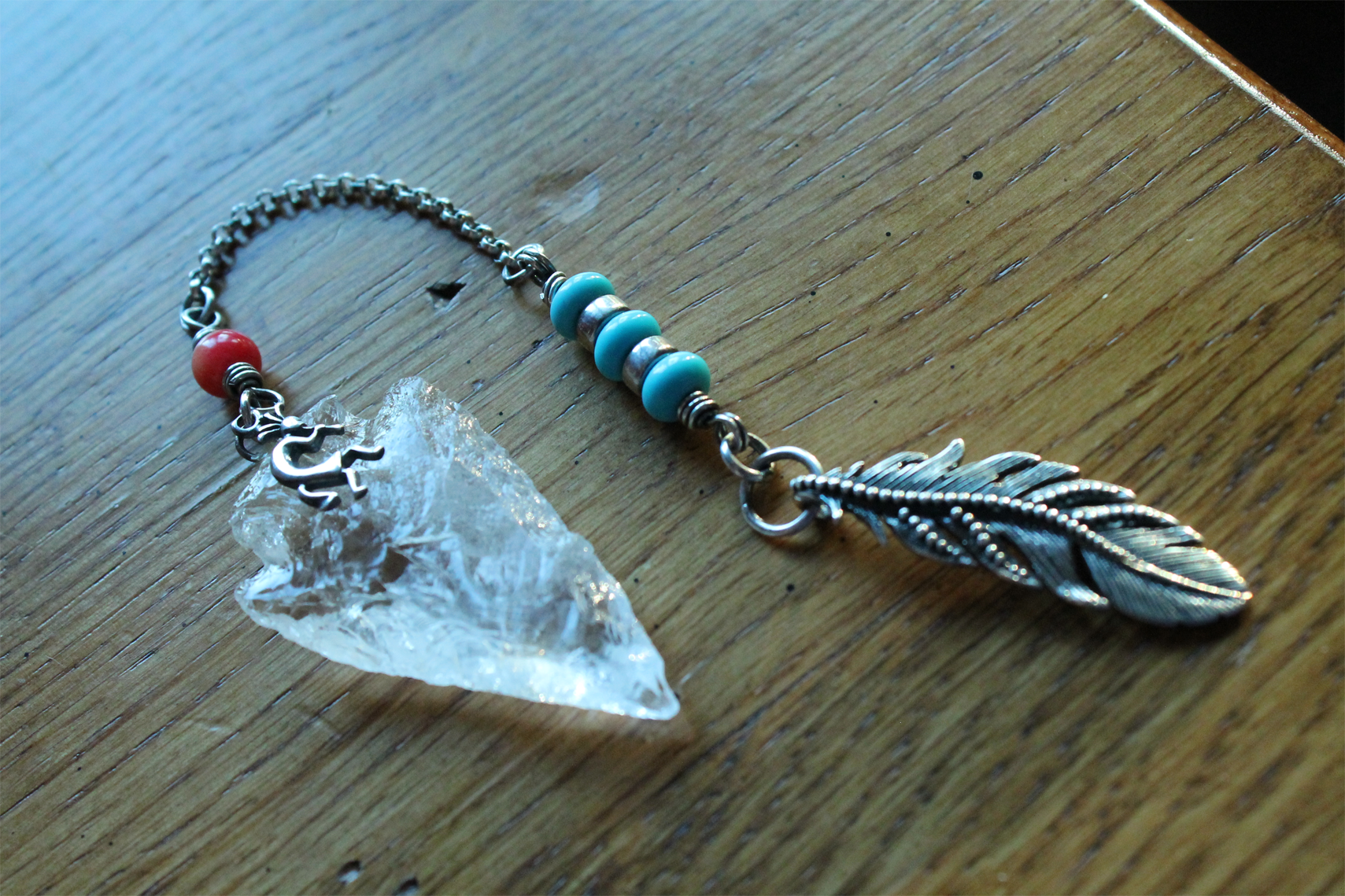 Clear Quartz Arrowhead Pendulum with Sleeping Beauty Turquoise in Sterling Silver
One-of-a-kind: ONLY ONE AVAILABLE. Ready to ship!
New to using a pendulum or just curious as to what dowsing is? Nigel and Maggie Percy of discoveringdowsing.com have excellent information to get you started and more.
This is a hand-cut Clear Quartz Arrowhead dowsing pendulum that has been cleansed, charged and is ready for you to program for energy work or personal use!
The Clear Quartz Arrowhead is 1-5/8" long and 1" at its widest. You will fall in love with the 3 stunning and rare 6mm Sleeping Beauty Turquoise rondelles (no longer being mined from the Sleeping Beauty Mine in Arizona, USA) and a gorgeous 6mm Red Bamboo Coral round. Dangling over the arrowhead is a Sterling-plated Kokopelli charm. Kokopelli is a Hopi symbol of fertility, replenishment, music, dance and mischief!
All components are connected by a high quality Sterling Silver rolo chain and wire that has been lovingly antiqued and hand polished.
From end to end, this treasured divining tool measures 7".
All of my pendulums come in a small muslin drawstring bag for storage or carrying in your pocket!
METAL ATTRIBUTES:
Silver enhances patience and perseverance to those who wear it. Silver has long been associated with lunar cycles and feminine powers of the moon. It's the preferred metal to use with gemstones because it magnifies their attributes as well.
Resources:
The Crystal Bible by Judy Hall
The Encyclopedia of Crystals by Judy Hall
The Book of Stones by Robert Simmons & Naisha Ashian
The information presented to you on peridotdaisy.com is not intended to replace professional medical advice. Gemstones and metals are outstanding additions to your health care regimen and daily life, and can energetically provide balance, protection and encouragement, all which promote healing and happiness at a deep level. We encourage you to include many modes of care for your health--including traditional medicine, alternative medicine and energy medicine--and advise you to always seek professional guidance.
GEMSTONE ATTRIBUTES:
Clear Quartz is an amplifier! It amplifies the energies of other crystals as well as your own intentions. It is easily programmable, which makes it perfect for prayer, meditation, healing modalities, crystal grids and manifesting. It also has "memory", constantly sending out your intentions to the Divine and quickly bringing your manifestations to fruition. It is, however, indiscriminate--so be sure that you cleanse it appropriately and often, and be cautioned that any "accidental" negative manifestations may come back to you in an unwanted timely fashion! Clear Quartz stimulates all chakras, encouraging a feeling of balance and well-being.
A stone whose use dates back to 5000 B.C., Turquoise has been used by many civilizations for jewelry, decorations, weapons and amulets. It was esteemed as a stone of protection, good fortune and good health--all properties that we still love it for today. Turquoise is a stone of wholeness, balancing the whole body, mind, emotions and spirit. It reminds us that as we grow in spirit it is not necessary to remove traits or parts of our personalities that seem less enlightened; that all parts of our being are of the Divine and that to truly become whole we must embrace all these aspects! ("You can't have a rainbow with just the color purple!") Turquoise is especially helpful for those who suffer from anxiety or depression by imparting its serenity to lift your spirits. It teaches us to forgive ourselves, to accept ourselves, and to honor ourselves as creations of the Divine. Lastly, Turquoise is a stone of truth, aiding us in manifesting deep wisdom and then the ability to articulate it.
Being an organic "stone" from the sea, Coral brings with it all of the healing Water Element qualities that teach you to "go with the flow" by imparting calm and emotional ease. Once thought a plant, Coral is actually the skeletal structure of undersea polyps. For this reason, Coral helps support the physical health of bones, blood and the circulatory system. It is also a stone of fertility and protection, prized by many indigenous cultures. Coral inherently beholds magical properties as it is frequently visited by the Mer-people, and brings safety and luck to those traveling on and spending time near the water.