The Circle - Sterling Silver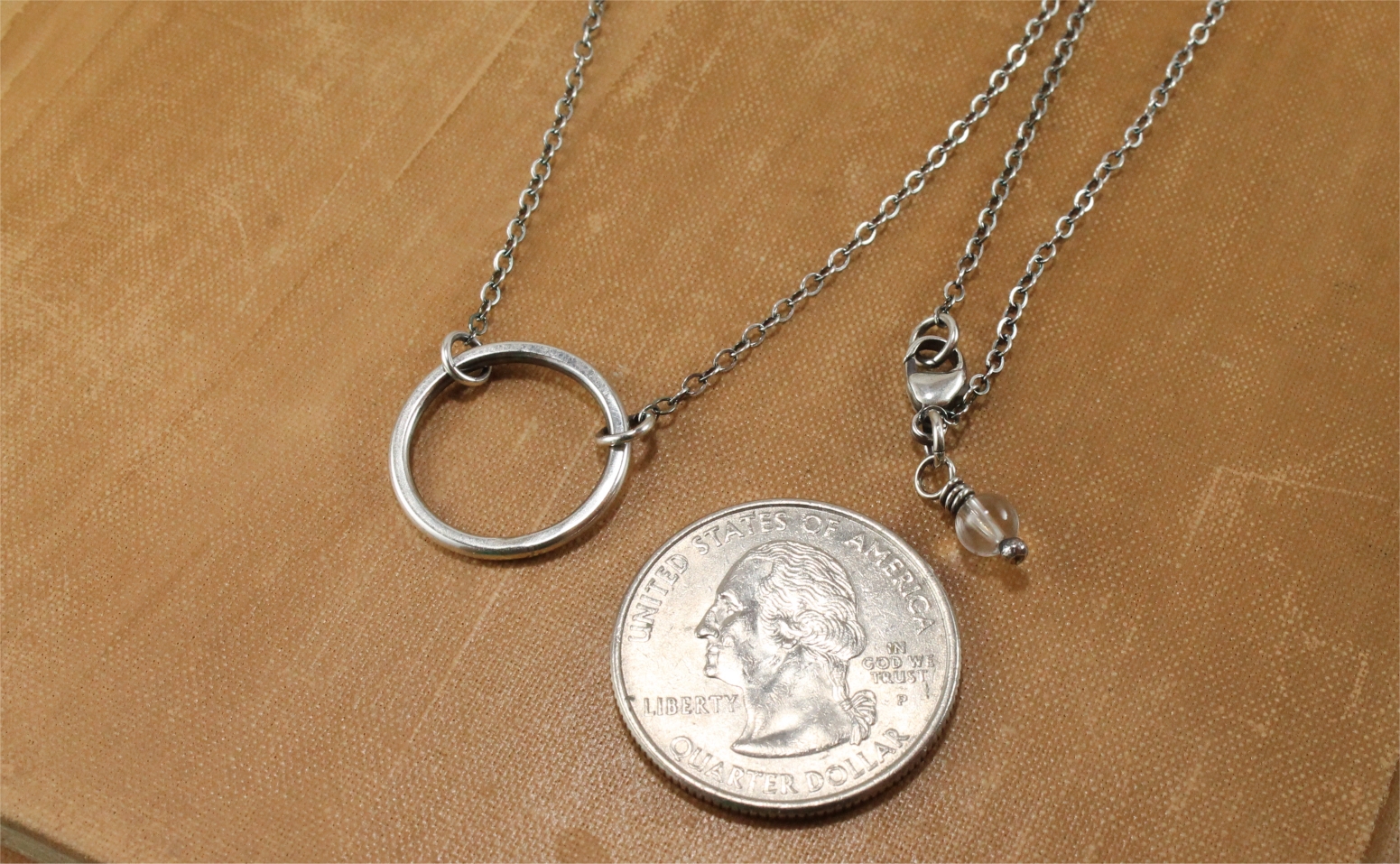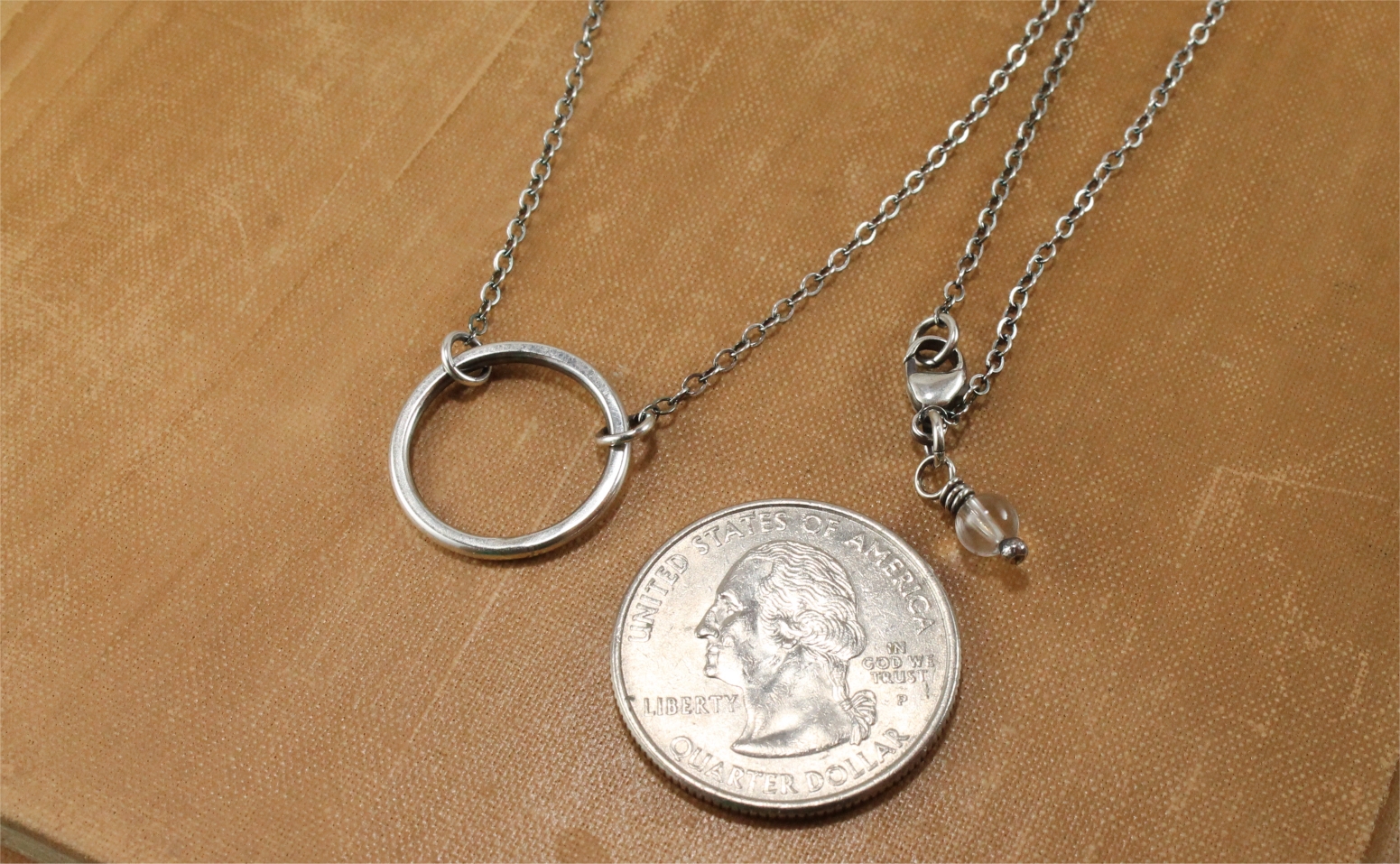 The Circle - Sterling Silver
This item is made-to-order just for you! Please allow 1-3 weeks for its completion. See the Ordering section on the Policies page for more info.
The solid Sterling Silver circle measures just shy of 3/4' in diameter and is a generous 1/16" thick. It has been fused closed, hand-sanded and lightly hammered for a smooth finish.

The necklace comes in 16, 17 or 18 inch lengths. The solid Sterling Silver chain is a flat cable style that gently sparkles. Dangling from the clasp in the back is a small, glowing Clear Quartz gemstone.

The entire piece has been antiqued, hand polished and tumbled to produce a glossy, light patina.
The circle shape is a modern symbol of unity, wholeness, and completion. Without end or beginning, it is infinity; yet it represents the cycles of life that pass only to start again.
It is also an ancient symbol with myriad meanings--more than we can count! Many cultures have used it as a symbol for protection, the Divine, the sun, and in representing the 4 elements (fire, water, air, earth).
The Circle is my version of today's "Karma" necklace, to which many associate the phrase, "What goes around, comes around." For me personally, The Circle is a beautiful reminder to focus our energies and love into our own circle of family and friends; to share joy, compassion, generosity, and laughter with those that mean the most to us. All that we give will always come back to us and bless others in the process!
Whatever your reason for wearing The Circle--its beauty is in its simplicity and is perfect for daily wear :)
GEMSTONE ATTRIBUTES:
Clear Quartz is an amplifier! It amplifies the energies of other crystals as well as your own intentions. It is easily programmable, which makes it perfect for prayer, meditation, healing modalities, crystal grids and manifesting. It also has "memory", constantly sending out your intentions to the Divine and quickly bringing your manifestations to fruition. It is, however, indiscriminate--so be sure that you cleanse it appropriately and often, and be cautioned that any "accidental" negative manifestations may come back to you in an unwanted timely fashion! Clear Quartz stimulates all chakras, encouraging a feeling of balance and well-being.
METAL ATTRIBUTES:
Silver enhances patience and perseverance to those who wear it. Silver has long been associated with lunar cycles and feminine powers of the moon. It's the preferred metal to use with gemstones because it magnifies their attributes as well.
Resources:
The Crystal Bible by Judy Hall
The Encyclopedia of Crystals by Judy Hall
The Book of Stones by Robert Simmons & Naisha Ashian
The information presented to you on peridotdaisy.com is not intended to replace professional medical advice. Gemstones and metals are outstanding additions to your health care regimen and daily life, and can energetically provide balance, protection and encouragement, all which promote healing and happiness at a deep level. We encourage you to include many modes of care for your health--including traditional medicine, alternative medicine and energy medicine--and advise you to always seek professional guidance.